Thousands around the world protest for stronger US gun laws
Comments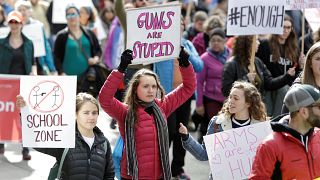 A national student-led protest calling for stronger gun legislation has attracted thousands in Washington and thousands more around the world.
Over 800 global sister protests were planned around the main event in Washington, which kicked-off at 12pm local time (17:00 CET).
Americans in Italy, Denmark, Spain, Ireland and Japan, did not let distance deny them a voice in the March Of Our Lives rally, which was organised in the days following a mass shooting at a Florida school.
Seventeen people at Marjory Stoneman Douglas High School were killed by 19-year-old former pupil Nikolas Cruz on February 14.
It was the sixth US school shooting this year which had maimed or killed students.
The massacre prompted US lawmakers and some gun retailers to introduce firearm restrictions, including banning bump stocks and raising the legal age limit for gun sales from 18 to 21.
But efforts to change US gun laws continue.
Americans' right to bear arms is protected under the second amendment of the constitution, and attempts to modify it have sparked intense political debate in the country.
The National Rifle Association (NRA), a powerful gun lobby, fiercely opposes increased gun control, while advocacy groups like the Brady Campaign firmly support it.