Usain Bolt seeks new challenge in football
Comments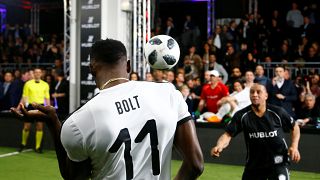 The world's fastest man, Usain Bolt, is looking for a new challenge, and he hopes soccer will provide it.
Bolt took part in the Football Match of Friendship in Basel under the watchful eye of Manchester United manager Jose Mourinho.
The Jamaican said while he is enjoying his retirement from competition, he is keen to take on something new, and be part of the soccer community.
Bolt said: "For me, I'm always a big fan of football as you know I want to join and to be a part of the soccer community and they approach us and for me it was easy because I like to give back and to do charity but so for me, it was good."
For this match Bolt was surrounded by stars from the past including Diego Maradona, Roberto Carlos, David Trezeguet and Marco Materazzi,