John Dowd quits as Trump's personal lawyer in Mueller probe
Comments
By Adam Edelman with NBC News Politics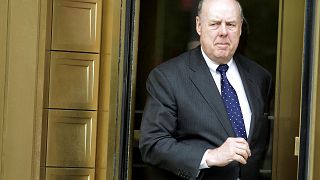 -
John Dowd — US President Donald Trump's personal lawyer, who has been providing counsel to the commander-in-chief related to the Russia investigation by special counsel Robert Mueller — said Thursday that he has resigned.
In a brief statement to NBC News, Dowd confirmed his move and said, "I love the president and wish him very well."
News of the Dowd's resignation was first reported by The New York Times.
Dowd's departure comes just days after Trump made his most direct — and explicit — criticism of Mueller's Russia investigation, when he tweeted on Saturday that the "Mueller probe should never have been started in that there was no collusion and there was no crime."
"It was based on fraudulent activities and a Fake Dossier paid for by Crooked Hillary and the DNC, and improperly used in FISA COURT for surveillance of my campaign. WITCH HUNT!" he wrote.
On Saturday, Dowd himself also called for an end toMueller's investigation, citing "recent revelations" and the late-night firing of former FBI Deputy Director Andrew McCabe as a basis to end the probe.
Dowd went on to clarify that he was not calling for Mueller to be fired, but that he wants the investigation to end in light of "revelations" after McCabe's termination.