Egypt 2018 Presidential Elections: Top 10 Facts
Comments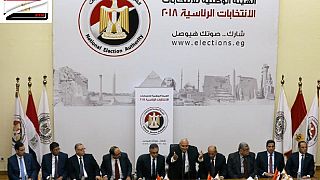 Egyptians go to the polls on March 26 and for three days, they will cast their votes to elect the country's president, in a race pitting the incumbent president Abdel Fattah el Sisi against little known El Ghad party chairperson Moussa Mostafa Moussa.
Although the process has been criticised for its questionable democratic credentials following the withdrawal of high profile contenders, both candidates have called upon Egyptians to ensure a high voter turnout to give the eventual winner a strong mandate.
Addressing women at Mothers' Day celebrations this week, Sisi urged Egyptian women to participate and 'let their voices be heard loud in the elections'.
As part of our coverage of the process in our Africa Elections slot online, Africanews presents ten top facts as relates to the elections.
#1 – Third election since 2011 Revolution
This is the third presidential election in Egypt since the 2011 Egyptian revolution that overthrew long serving president Hosni Mubarak.
#2 – Sisi seeks a second term
Incumbent president Abdel Fattah el-Sisi is contesting for the president's office for the second time after having contested and won the 2014 presidential election.
#3 – Two candidates confirmed by electoral body
The National Electoral Authority confirmed that the election will be contested by two candidates; incumbent president Abdel Fattah el-Sisi (independent) and El Ghad party leader Moussa Mostafa Mousssa. Several high profile aspirants including a former prime minister and a former army chief of staff withdrew their bids citing intimidation from the state.
#4 – Presidential candidate needs 51% to win first round
The president of Egypt is elected using the two-round system. The outright winner will be announced on 2 April if they have garnered the required 51% of the votes cast to avoid a runoff.
The final result would have been announced on 1 May 2018 in the case of a runoff.
#5 – Key dates in the process include:
February 24, 2018 – NEA released final list of presidential nominations
March 16 – 18 , 2018 – Egyptians abroad vote
March 24, 2018 – Campaigning closes
March 26 – 28, 2018 – Voters in Egypt go to the polls
#6 – Eligibility requirements
Candidates must receive endorsements from a minimum of 20 MPs, or 25,000 citizens from at least 15 governorates, with at least 1,000 endorsements from each governorate.
#7 – Sixty million eligible voters
Egyptians who are above the age of 18 have the right to vote. The eligible voters for this year's presidential election are sixty million. Active members of the Armed Forces and police are not allowed to vote.
#8 – First elections organised by National Elections Authority (
NEA

)

These are the first presidential elections to be organised and supervised by the National Elections Authority (NEA); previous polls had been run by the High Elections Committee.

NEA is made up of 10 members selected by the Supreme Judicial Council including the heads and deputies of the Court of Cassation, the Cairo Court of Appeals, and the State Council.
#9 – Opposition has called for a boycott of the elections
Opposition politicians and political parties including former presidential candidate Hamdeen Sabbahi launched a 'Stay at Home' campaign, calling upon Egyptians to boycott the elections that they describe as a 'masquerade'.
Fact #10 – Election issues include weakening economy and insecurity
The main issues that Egypt's next president wil have to address are a weakening economy and security in the wake of increased terror attacks.