Homelessness on the rise in all EU countries — except Finland: report
Comments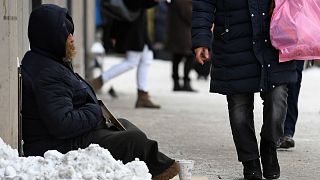 Copyright

REUTERS/Fabian Bimmer
Finland is the only country in the European Union where homelessness is not on the rise, according to a new report, which notes that children, women and the working poor are among those most affected.
In their report, the "Third Overview of Housing Exclusion in Europe", the European Federation of National Organisations Working with the Homeless (Feantsa) and the French Abbe Pierre Foundation say growing homelessness is saturating support systems and putting increased pressure on emergency services.
"This past year has resolutely confirmed the existence of another Europe: a Europe not merely ignored but also misunderstood, not just despised but also forgotten — a Europe of the homeless," the report notes.
While it is not possible to calculate an exact number of homeless people in the EU and differences in metrics used for individual countries make them impossible to compare, the groups say statistics that are available paint a dark picture of the state of homelessness in the region.
According to the report, Finland is the only country in the EU where homelessness is not on the rise, with a 10% drop recorded in 2016 compared to 2013.
"What works there is that they treat homelessness as a housing problem and have therefore committed to providing affordable and supported housing for their homeless population," Feantsa told Euronews.
"In particular they use a model called Housing First which treats housing as a right and is not given as a reward for good behaviour (as is often the case around Europe)."
Outside of Finland, the report says politicians across the EU have shown "profound ignorance" towards homeless people, while profiles of those without homes to go back to are changing to the point that children are becoming the largest group in emergency shelters.
In Ireland, 3,333 children were homeless in November 2017, and there was a 60% increase in the number of children in emergency accommodation between 2011 and 2017 in Sweden, the report says.
In Britain, more than 78,000 households were in temporary accommodation in March 2017.
Feantsa is calling on leaders to address the issue by following recommendations, including investing funds into tackling homelessness, monitoring the issue at an EU level, and pledging to eradicate it by 2030.
"Long-term housing is a prerequisite for well-being, recovery and social integration. It is a means — and not an end — to the protection of all social rights and personal development of an individual," the report says.