'I am not a fish thrower', Jacob Rees-Mogg protests
Comments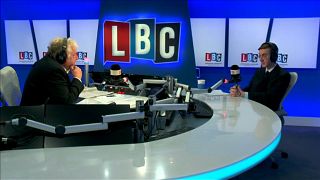 A British MP has denied reports he would throw dead fish into London's River Thames to protest against fishing rights outlined in Brexit talks. Jacob Rees-Mogg, the leader of a 60-strong group of Eurosceptic Conservative MPs told LBC radio:
"Am I going to change my name to Captain Haddock? I'm not throwing fish anywhere, I am not a fish thrower. I think this has got slightly out of hand that there was a suggestion that fishing boats should go up the Thames in protest against the delay in leaving the Common Fisheries Policy (CFP). But I won't be throwing fish anywhere. I have a nasty feeling that if I started throwing fish they would be brought back by the wind and hit me in the face. So no, no I'm not a fish thrower.
"I think this is a real worry. The problem is that there may be a change in the approach to fishing quotas which will make it particularly difficult for British fishermen in the final year of [UK's EU] membership and this is the choke quota issue whereby the quota will be set for a maximum of each fish and you're not allowed discards so that if you meet the quota in the lowest level of catch for a particular species of fish, you then can't do any more fishing because if you catch one or more of those you're not allowed to throw it back and that is the issue and if we were in control ourselves we would be able to have different rules. So there is a fear that the last year of membership of the CFP could be potentially the worst year of membership of the CFP", he added.
A draft text sets out a 21-month Brexit transition period during which the UK will be forced to abide by EU rules, but will lose its say. The British government broadly supports it, but among points requiring further discussion is the border between Ireland and Northern Ireland, with Prime Minister Theresa May opposing the idea of the whole of the emerald isle staying in the single market and customs union.
Points of agreement include the Brexit divorce bill and keeping the status quo regarding citizens' rights for people arriving in the UK during the transition.
Rees-Mogg has labelled the period 'purgatory before getting into Heaven', although UK businesses have largely welcomed the news.