Russian Ambassador: 'Nerve agent came from UK lab'
Comments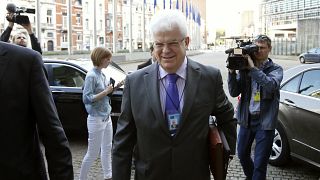 -
Russia's ambassador to the EU, Vladimir Chizhov, has claimed in a television interview that the chemical used to poison a former Russian spy in England had come from a British-based lab.
Chizhov added that Russia had "nothing to do" with the poisoning of former intelligence officer Sergei Skripal, 66, and his daughter Yulia, 33, while talking to the BBC's Andrew Marr on his Sunday show.
The pair were found slumped on a bench in Salisbury town centre on March 4. Tests later found they had been poisoned by a military-grade nerve agent known to have been produced in the Soviet Union: Novichok.
When asked about how the chemical may have wound up in Salisbury, Chizhov said: "When you have a nerve agent or whatever, you check it against certain samples that you retain in your laboratories.
"And Porton Down, as we now all know, is the largest military facility in the United Kingdom that has been dealing with chemical weapons research. And it's actually only eight miles from Salisbury."
Chizhov was then asked if he thought Porton Down scientists were responsible for producing the nerve agent used in the attack. He told Marr: "I don't have evidence of anything being used."
The British government has dismissed the claims as "nonsense", according to the BBC.
A Foreign Office spokesperson told the broadcaster: "It's just another futile attempt from the Russian state to divert the story away from the facts - that Russia has acted in flagrant breach of its international obligations."
Dozens of people who had been in contact with the Skripal, his daughter and the crime scene have since been treated in hospital for exposure.
The condition of the pair has been described as critical but stable.
The poisoning, which is being investigated as attempted murder by authorities, has plunged Britain and Russia into a political crisis.
Prime Minister Theresa May told Parliament Wednesday that there was "no alternative conclusion other than that the Russian State was culpable" in the attack, and later ordered the expulsion of 23 Russian diplomats.
On Saturday, Moscow announced it would expel 23 British diplomats in retaliation and close the British Council and Britain's consulate-general in St Petersburg.