Cirque du Soleil acrobat dies after mid-performance fall
Comments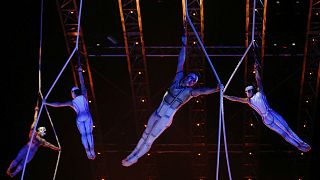 A flying performer in Cirque du Soleil's travelling show, VOLTA, has died after falling approximately 3.7 metres onto the stage during a performance in Tampa, Florida, on Saturday.
Long-time aerialist Yann Arnaud fell while he was performing the show's aerial straps number, which sees acrobats execute moves while suspended from two lengths of cord.
The show stopped immediately and the performer was given medical attention.
Arnaud was transported to the nearest hospital, where he later died from his injuries.
Daniel Lamarre, President and CEO of Cirque du Soleil Entertainment Group, said in a statement: "The entire Cirque du Soleil family is in shock and devastated by this tragedy. Yann had been with us for over 15 years and was loved by all who had the chance to know him."
Cirque du Soleil Entertainment Group issued a statement in which it said they were currently gathering more information about the event.
"We are offering our full and transparent collaboration to the authorities as they look into the circumstances of this accident," it read.
Two shows scheduled for Sunday afternoon and evening in Tampa were cancelled.