The US has announced sanctions against 19 Russian individuals and 5 groups
Comments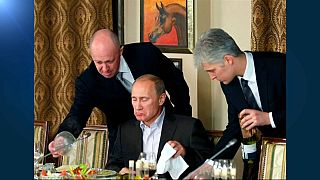 The United States has announced sanctions against 19 Russian individuals and 5 groups.
It includes Moscow's intelligence services and a Russian businessman.
That's according to the Treasury Department who sent out this tweet which said, Treasury sanctions Russian cyber actors for interference with the 2016 US elections and malicious cyber-attacks.
This building here is the troll factory which is said was used to spread fake news in St Petersburg particularly in 2016.
Putin's chef, Vergeny Prigozhin is accused of financing it.
Two of his companies, including his catering business were sanctioned by the Treasury this year and for providing financial support for Russia's military occupation of Ukraine.
Prigozhin is one of Kremlins inner circle and one of 13 Russian nationals charged with interfering with U.S. elections and political processes by Special Counsel.