See them before they vanish: Europe's most under-threat heritage sites
Comments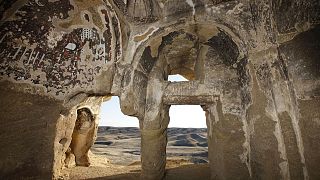 Campaigners have today sounded the alarm over Europe's most under-threat buildings and monuments.
Europa Nostra, a pan-European cultural heritage federation, released a list of seven sites it considers endangered.
Maestro Plácido Domingo, the group's president, said the "rare treasures" were in danger of being lost.
Europa Nostra says its list is intended to be a "catalyst for action" and that sites it had highlighted in previous years have now been saved for future generations.
England: the UK's 'oldest ice factory'
The ice from the factory was used to preserve fish in ships in Grimsby, once one of the world's largest fishing ports. It is now in a state of serious decline, say campaigners, and plans to secure its future have yet to find funding.
Austria: the historic centre of Vienna
From being the capital of the Austro-Hungarian Empire to playing a leading role in Europe's classical music, Vienna has an immense significance to the continent's tangible and intangible culture, according to Europa Nostra.
But plans for a high-rise development nearby would spoil views from the UNESCO World Heritage site, says the group.
Albania: 'seriously damaged' post-Byzantine churches
War, plundering and natural disasters have seriously damaged a dozen churches in Voskopoja and Vithkuqi in south-eastern Albania, says Europa Nostra. They are masterpieces of the post-Byzantine style, it adds.
Bulgaria: the communist monument Buzludzha
Europa Nostra says the communist monument was built in 1981 but has been abandoned since the fall of the Iron Curtain at the end of the decade and has been victim of thefts, vandalism and severe weather.
Romania: the art nouveau casino at Constanta
The art nouveau casino, situated on the shore of the Black Sea, was built in 1910 but has been left abandoned since the 2000s, says Europa Nostra.
Turkey: the largest wooden building in Europe
The Prinkipo Greek Orphanage, considered the largest wooden building in Europe, is situated on islands off the coast of Istanbul, say the group. It ceased to be a orphanage in 1964 and has been left to deteriorate.
Georgia: the David Gareja monastery complex
Campaigners say the complex — situated around 70 kilometres from Tbilisi on the border with Azerbaijan — contains hundreds of cave cells, churches and monasteries and is a masterpiece of Georgian culture.