My Lai massacre: Vietnam prepares to mark 50th anniversary
Comments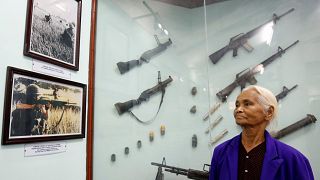 Preparations are underway in Vietnam for the 50th anniversary of the My Lai Massacre.
On March 16, 1968, 504 people were killed by American soldiers in the worst recorded US war crime committed in the Vietnam War.
Preparations for a 50th anniversary ceremony at the site, now a memorial to the victims, are low key.
The anniversary follows a landmark visit by a US aircraft carrier to the nearby port city of Danang, testament to warming ties between the former foes.
with Reuters