Apocalyptic forecast for world's wildlife by 2100 says WWF
Comments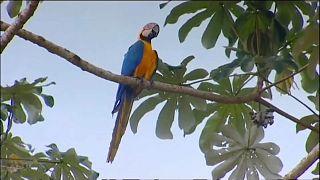 The World Wide Fund for Nature, backed by an extensive survey, says the world risks losing more than half of its plant species and a similar percentage of its animal life by the end of the century.
The report, drawn up by the WWF with the University of East Anglia and James Cook University, examined nearly 80,000 plant and animal species in 35 of the world's most biodiverse regions, publishing the results in the journal Climate Change.
The world's great forests, from the Amazon to Africa, risk losing 60% of their wildlife, and the reason says the organisation is the sensitivity of global ecological hotspots to global warming.
Places like the Galapagos islands or Madagascar are facing ecological oblivion as the loss of key species could see nature run riot, as populations of mammals, amphibians, reptiles and birds crash with ecosystems in Africa, Asia, North America and Australia at particular risk.
These losses are based on governments not backsliding on their current committments, allowing warming by 3.2 degrees by the century's end, well short of the paper Paris committment to just plus two degrees.
Respect that, and the death toll will still be awful, but less frighteningly terminal, says the report.