Civilians 'to be evacuated' from eastern Ghouta today
Comments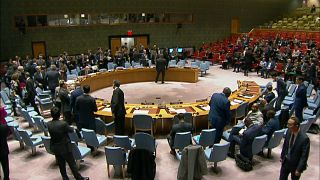 The UN resident coordinator in Syria says the evacuation of civilians from eastern Ghouta, including people with medical conditions, is expected today. It follows reports of an agreement between Syrian ally Russia and the largest rebel group that would allow the wounded to leave.
It comes amid new ceasefire proposals in Syria that the US ambassador to the UN said must be implemented.
"The United States remains prepared to act if we must. It is not the path we prefer, but it is a path we have demonstrated we will take. And we are prepared to take it again", Nikki Haley warned.
Haley reminded the Council that last year Washington bombed a Syrian government airbase after the regime's use of chemical weapons.
More than 1,000 people have been killed since February, when the Syrian regime began a large-scale offensive to retake the enclave.Last month (February 2018) the UN demanded a 30-day ceasefire across Syria but hostilities have continued.
Damascus says the rebel fighters are not protected by the ceasefire as it claims they belong to terrorist groups.