Passenger plane crashes off runway at Kathmandu airport, killing 50
Comments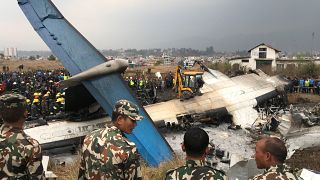 Copyright

Reuters/Navesh Chitrakar
A passenger plane carrying 67 passengers and four crew has crashed off the runway while trying to land at Kathmandu airport in Nepal, killing at least 50 people.
The aircraft from US-Bangla, a Bangladeshi airline, had flown in from Dhaka and came off the runway at Tribhuvan International Airport, and hit the ground before catching fire.
Those aboard included 33 passengers from Nepal, 32 from Bangladesh, one from China and one from the Maldives.
"We have recovered 50 dead bodies so far," said army spokesman Gokul Bhandari
According to Raj Kumar Chettri, the airport's general manager, the pilot said he wanted to go in a northern direction moments after the plane received permission to land. When the control tower asked if there were any problems, the pilot replied in the negative, reported Reuters. 
The tower again radioed to the pilot after the plane made two rounds in the northeast direction, asking if everything was OK. The pilot said "yes". 
The control tower communicated afterwards that the plane's alignment was not correct, and there was no reply. 
Airport shut down
In the wake of the crash, the airport was shut down and other flights were diverted, according to an airport spokesperson.
Kathmandu International Airport, as TIA is also known, has a reputation for being one of the most difficult in the world for pilots to land, because of surrounding mountains.