Helicopter crashes into New York's East River, killing five people
Comments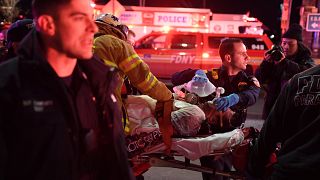 Five people are dead after a helicopter carrying six crashed into New York's East River, a spokesperson has confirmed.
The pilot freed himself. Two of the passengers were pronounced dead at the scene and three others died in hospital after being recovered by emergency divers. New York Fire Department Commissioner Daniel A. Nigro said divers had to cut out the passengers, who were tightly harnessed in.
Witnesses watched as the helicopter plunged into the chilly water. Some say the aircraft appeared to be attempting an emergency landing.
"Within a minute literally, it was like completely submerged, and all that was there was the yellow raft", said one girl. "Then we saw someone on top yelling."
"Someone climbed out of the helicopter and then was on top of the yellow raft", another added.
"Screaming help and waving his arms. And we were waving back that help was on the way."
Authorities say the Eurocopter AS350 came down near Roosevelt Island at about 7pm pm Sunday (March 11).
According to police, the helicopter was operated by New Jersey-based Fly Liberty Charter.
An investigation into the cause of the crash is underway.