FN name-change harks back to Nazi past say French critics
Comments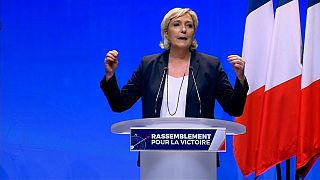 In France, the name change of the National Front proposed by Marine Le Pen continues to make waves.
On Sunday, the FN president suggested renaming her father's party to break with the past and convince new voters, but observers have been quick to point out that her bold new name, the "Rassemblement Populaire", or Popular Rally, has echoes of a dark part.
"This name must be more than just a project. It must be a rallying cry, a call to join us," roared Le Pen at the party's Lille congress.
But quickly the media and social networks reminded everyone that the FN's new name evoked the "Popular National Rally" a fascist party that appeared in France during the Nazi occupation.
Another concern for Marine Le Pen is that the future name of her party already exists: it was even registered in 2013 at the Institut Nationale de la Propriété Industrielle by an unknown person on behalf of an obscure political party. In the event of a conflict, it is therefore up to the courts to intervene.
Finally, the announced change of name does not sit comfortaly with many of the FN's top brass, and none more so than daddy, now estranged from his daughter and expelled from his party. either.
On Monday, Jean-Marie Le Pen declared that the abandonment of the name Front National underpins nothing but a "political assassination".