Spain marches for gender equality
Comments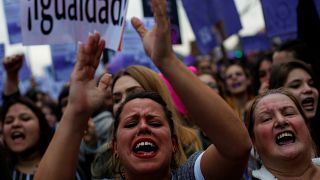 Over six million people have marched through the streets of Spain to take part in the country's first ever protest against gender inequality.
In Madrid hundreds of thousands of women flooded the city centre waving flags and umbrellas sporting the colour purple, the official colour of International Women's Day.
"In our daily life there are a lot of gestures that are what we call microsexism that we have to change and eradicate and above all be aware of to improve the situation. There is still much to do but with these demonstrations and so many people here, the truth is that it is getting better", said one protester.
Spain is ranked 27th in a list of over 180 countries in the United Nations' latest Gender Inequality Index.
However, Spanish women's access to the labour market remains well below the European average due to a dearth of state support.
Euronews reporter Carlos Marlasca Morales added:
"There are women with whom euronews has spoken who believe that this historic day will serve to break the evident gender gap in Spain. Some of them have also said it is a task that they have been working on since the beginning of the year in places like colleges and universities."