Rohingya: UN rights chief wants claims of atrocities referred to ICC
Comments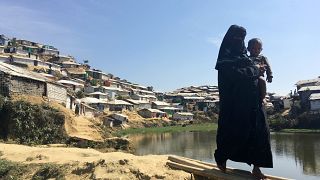 Alleged atrocities committed against minority Rohingya Muslims in Myanmar should be referred to the International Criminal Court (ICC) for prosecution, the top UN human rights official said on Friday.
Zeid Ra'ad al-Hussein, UN High Commissioner for Human Rights, also urged Myanmar to allow monitors into northern Rakhine state to investigate what he called suspected "acts of genocide".
His calls were echoed by Andrew Gilmour, UN Assistant Secretary-General for Human Rights, who spoke to Euronews after returning from Bangladesh where he met recently-arrived Rohingya refugees.
"We cannot go across the border because the Myanmar government refuses to let UN human rights officers anywhere near the place," Gilmour said.
"Even the fact-finding mission that was set up by the UN Human Rights Council is not being allowed to go. As far as we are concerned, there is one very simple reason for that. They don't want the facts to be found."
Some 700,000 Rohingya Muslims have fled to Bangladesh since last August to escape a military crackdown in neighbouring Myanmar.
Having talked to refugees in Bangladesh, Gilmour says he concluded that a "campaign of terror and forced starvation" continues against the Rohingya in Myanmar.
And he says that those who have escaped to camps over the border now face a natural disaster, with the imminent rainy season.
"Refugees have built their little bamboo and plastic sheeting huts, I can't even call them huts, it is literally just sheeting and bamboo, on hills that have been stripped of all vegetation," he told us.
"Even the roots have been dug up and used for firewood. So there is nothing to hold the earth together.
"At the moment it is earth but in a few weeks time it will be mud. There will be landslides, there will be mudslides. We fear that people will be buried alive in them. Other structures will be washed away in the floods."
Bangladesh is lashed by typhoons, and the Rohingya camps are clustered in a part of the country that records the highest rainfall. Computer modelling by the United Nations refugee agency (UNHCR) shows that more than 100,000 refugees will be threatened by landslides and floods in the coming monsoon.
Flooding also increases the risk of disease outbreaks and could threaten access to medical facilities, making them difficult to reach and restock, the modelling shows. Latrines, washrooms and tube wells may also be flooded.
The rains typically begin in April and peak in July, according to the Bangladesh Meteorological Department.
In Kutupalong-Balukhali, the biggest of the makeshift camps, up to a third of the land could be flooded, leaving more than 85,000 refugees homeless, according to the UNHCR. Another 23,000 refugees live on slopes at risk of landslide.
The UNHCR, International Organization for Migration (IOM) and World Food Programme are using bulldozers to level 123 acres in northern Kutupalong-Balukhali camp in an effort to make the area safer, said UNHCR spokeswoman Caroline Gluck.
IOM is putting debris-removal equipment and work crews throughout the camps, it said, and trying to improve roads and stabilise slopes. It is also setting up emergency diarrhoea treatment centres and providing search and rescue and first aid training.
Bangladesh Disaster Management Secretary Shah Kamal said the government was working with the UN to relocate 133,000 people living in high-risk areas. It is also launching a Rohingya-language radio station that will act as a natural disaster warning system, he said.
with Reuters