Turnbull to talk human rights with Aung San Suu Kyi
Comments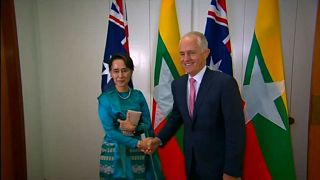 Myanmar's embattled leader Aung San Suu Kyi has arrived in Canberra.
"Over 90 per cent of our population has been wiped out and more than 43,000 people have been killed in just a two or three-month operation,"

Rohingya refugee in Australia
Having met his visitor with a military honour guard, Australian Prime Minister Malcolm Turnbull said he would raise human rights concerns during the state visit.
Despite having won the Nobel Peace Prize in 1991, Suu Kyi is facing widespread condemnation over her response to military attacks on her country's minority Rohingya Muslim population.
Close to 700,000 Rohingya have fled to Bangladesh since a crackdown against the community began last year. The United Nations has described the situation as "ethnic cleansing".
Aung San Suu Kyi was met by street protests and even a lawsuit when she attended an ASEAN summit in Sydney last week. Australia's Attorney General did not allow the suit, saying that the visitor had diplomatic immunity.
Myanmar's leader used her presence to appeal to neighbouring countries for help with the humanitarian crisis in her country.