Asia Argento: Breaking the Silence
Comments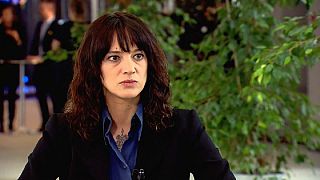 The Italian actress and director Asia Argento has become the face of the #MeToo movement after breaking the silence on the sexual abuses perpetrated by Harvey Weinstein.
Euronews reporter Elena Cavallone met Asia Argento ahead of her speech at the European Parliament in Brussels.
Cavallone: You have been one of the first Hollywood actresses to speak up about past sexual abuses by producer Harvey Weinstein. But your revelations to the international press have generated many different reactions and sometimes violent criticism against you.
You have been accused of having been silent for all these years because you feared ruining your career. How do you feel after all of this?
Argento: This hurt me a lot but at the same time gave me more strength. Because when you are a victim of such injustices you have two choices: you fall into the abyss or you get up like a phoenix. I would like to clarify that these accusations came only from Italy, in the United States when we spoke out and revealed the truth we were immediately believed.
Cavallone: Do you regret your choice to have denounced those events or if you could go back to the past would you do it again?
Argento: I took a lot of beatings for choosing to tell my story but the result has been that finally women are heard and believed, so it was worth it.
Cavallone: You are a famous actress and an internationally renowned director but for a woman not in your position, a normal woman-
Argento: What do you mean that I'm not a normal woman? Do you think that I was not risking losing my job? Do you think that all this is just in the entertainment industry? Harassment takes place everywhere: this revolution doesn't concern only show business. It's everywhere, even here in the European Parliament, so it's a revolution that affects everyone, like you.
Cavallone: How can a woman find the courage to denounce the abuses that she suffers by those in power?
Argento: I found the strength thanks to other women and this is the meaning of "me too": it is only with empathy and solidarity that this rebellion is possible, that we can have the courage to denounce the monsters who try to expropriate our humanity.
Cavallone: Many actresses have reported the abuses suffered by Weinstein and on these cases there are many investigations ongoing in the United States. Weinstein's lawyer said that in case of a trial he will declare to the court that having sex consensually in order to boost a career is not considered rape. What is your response to this?
Argento: These are the absurdities argued by those monster's lawyers, who naturally deny having done these things to women. When there are 100 women who say that they experienced the same thing, from the same monster, in the same way, then we cannot say that they were all casting couch, as they call them. No, they were real abuses. In my case for example I don't received any benefit after having being raped, I didn't boost my career thanks to this monster. I didn't work with him anymore.
Cavallone: You have expressed many concerns against Berlusconi and the macho mentality that he embodies. Italian public opinion has been often soft towards the former prime minister and his sexual scandals. Do you believe that your activism has impacted the public opinion towards Berlusconi?
Argento: Berlusconi certainly is the symbol of how the patriarchy in Italy has been tolerated by everyone and also seen by the rest of the world as something almost funny or ridiculous. But it is neither funny nor ridiculous in my opinion. Berlusconi made a mess in Italy, where we have internalized this misogyny. We have normalized harassment and women are led to think that in a way it is their fault, which is what those men want.
Cavallone: Asia Argento thank you for being with us at Euronews
Argento: Thank you.