With final touch Vladimir Putin caps World Cup countdown video
Comments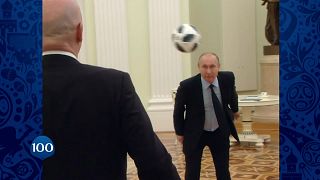 With just 100 days to go before the World Cup kicks off in Russia a host of celebrities has contributed 100 "Top Trump" style clips of them playing keepie-uppie, each kick marking the countdown.
Some people just cannot wait for the tournament to begin, even if many of the featured stars will not be going or have kicked their last football at any level, let alone the international one.
So watch as legends attempt to keep the ball up 100 times in a row, set to Rimsky-Korsakov's "Flight ofthe Bumble Bee".
Will anyone let the side down and drop the ball? Of course not, this is going to be the best world cup ever, and no less a sportsman than President Vladimir Putin himself, along with a little help from FIFA boss Gianni Infantino, was entrusted with the vital final touch.