UK ready to take 'robust' action in case of critically ill Russian spy
Comments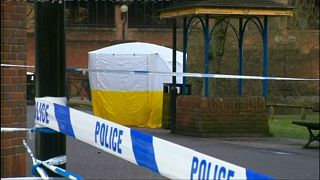 CCTV footage captures an apparently healthy pair taking a stroll through the UK city of Salisbury on Sunday afternoon.
"If in point of fact this proves to be an assassination, that Skripal dies and we discover the nature of the poison that was administered, this is a major incident on British soil."

Intelligence Analyst
Moments later Russian spy Sergei Skripal and his daughter Yulia were found slumped unconscious on a bench, thought to be the victims of an as yet unidentified substance. The defence facility at nearby Porton Down is investigating.
No risk to the public
Police have sought to offer reassurance to the public about their safety after comparisons with the 2006 poisoning of Alexander Litvinenko caused alarm, and a restaurant and pub were closed down.
Speaking at a press conference, Temporary Chief Constable Kier Pritchard of the Wiltshire Police, said:
"The Metropolitan Police have confirmed that due to the unusual circumstances the counter terrorism network will be leading this investigation as it has the specialist capability and expertise to do so. It is important to reiterate they have not declared this as a terrorist incident".
Robust and reasonable response
In Parliament, UK foreign secretary Boris Johnson said that "no attempt to take an innocent life on British soil would go unsanctioned or unpunished":.
"While it would be wrong to pre-judge the investigation, I can reassure the House that should evidence emerge that implies state responsibility, then her majesty's government will respond appropriately and robustly."
He said that the incident cast into doubt the attendance of British officials at the football World Cup, due to be hosted in Russia this summer: "I think it would be very difficult to imagine that UK representation at that event could go ahead in the normal way and we would certainly have to consider that".
Safe haven?
Sergei Skripal moved to the UK eight years ago as part of a spy swap with Russia after he'd been convicted there of high treason in the form of paid espionage for the British secret service.
His relatives have said he lived in constant fear of reprisals.