The Oscars: 5 things you need to know
Comments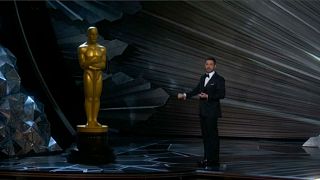 1. No big surprises amongst the winners
There were no major upsets as the Oscar winners were announced. As forseen, The Shape of Water took best picture, with Gary Oldman winning best actor for Darkest Hour and Frances McDormand claiming best actress with Three Billboards Outside Ebbing, Missouri. Coco won best animated feature and original song, and Roger Deakins scooped an award for best cinematography for Blade Runner 2049.
"I am here to represent the survivors of sexual violence around the world and make sure that our stories stay centre."

Founder of the #MeToo movement
So far, so predictable? Well yes, though The Shape of Water represents a major breakthrough for sci-fi films, succeeding where ET and A Clockwork Orange had failed. And whilst Gary Oldman was expected to triumph for his portrayal of Winston Churchill, he does at least break the mould of plummy British actors succeeding in Hollywood.
2. Time's Up at the first Oscars since #MeToo
Harvey Weinstein dominated previous Oscars. It was his most high-profile stalking ground, the place where his power was most nakedly on display. It was no surprise, then, that host Jimmy Kimmel in the end chose to reference the sexual harassment scandal as part of his opening speech, name-checking Weinstein and saying that he deserved his expulsion from the academy. He also joked that the Oscar satuette was the ideal embodiment of the times, lacking, as it does, a penis.
Kimmel paved the way for a swathe of similar references. Most notably, an entire segment was dedicated to Time's Up and #MeToo, presented by Ashley Judd, Salma Hayek and Annabella Sciorra, three women who publicly accused Harvey Weinstein of sexual misconduct. When Emma Stone introduced the best director category, she did so by announcing "these four men and Greta Gerwig."
Perhaps most popular contribution came from Frances McDormand, when she accepted her award for best actress. Having told the men in the audience to ask the women about their projects and ideas, and not only at the after-party, she then went on to say "I have two words for you: inclusion rider". Cue hasty Googling...
3. Inclusion rider: two unlikely words that swept social media
McDormand's two words meant very little to anyone at first. Merriam-Webster Dictionary reports that "inclusion" was its top search of the night. As news outlets scrambled to produce the first explainer, twitter was divided on the usefulness of mentioning these two words.
So what is an inclusion rider, anyway? It's an equality clause in an employment contract:
4. No black uniform on the red carpet
At the Globes and the BAFTAs, actresses wore black as a sign of their allegiance to the #MeToo and Time's Up movements. By contrast the red carpet at the Oscars was marked the more traditional colourful display of designer frocks.
Alison Janney drew plenty of attention with her show-stopping red Reem Acra gown.
But perhaps the best red carpet moment came when British actress, Dame Helen Mirren, downed a shot of tequila to steady her nerves.
5. Large font
For a few minutes in 2017 it seemed that the winner of last year's best picture award was La La Land. That was until it was discovered that Warren Beatty and Faye Dunaway had been given the wrong envelope when they went on stage to make the announcement. The winner was, in fact, Moonlight, and the La La Land team were left to abandon the stage in disappointment.
This year, organisers were taking no chances. The envelopes containing the names of the winners were marked with the name of the category in a vast golden font that even the most short-sighted could not fail to make out. PwC Accountants, who supply the staff who hand out the envelopes backstage, reportedly received additional training, too.