Poland: four killed, 20 injured after blast causes building to collapse
Comments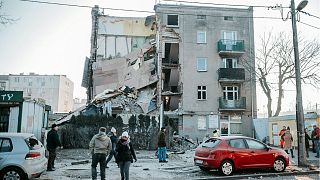 The collapse of an apartment building in Poznan, western Poland, has killed four people and injured at least 20 more, according to local media.
The building crumbled on Sunday morning (March 4) after an explosion that was likely caused by gas, said state-run news agency PAP.
The prosecutor's office said an investigation is expected to start on Monday.
"Looking at the degree of destruction of this building, it was initially assumed that it could have been a gas explosion, but we do not have certainty yet. For now, our activities are focused on the rescue operation," a state fire service spokesman told broadcaster TVN24.
Many households in Poland use gas for cooking or heating water.