Slovakia mourns slain journalist
Comments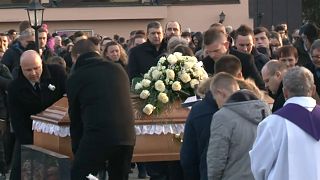 The funeral has been held in Slovakia of an investigative journalist who was found shot dead at his home last weekend, along with his girlfriend.
Scores of people were present at the service and burial of Jan Kuciak. The funeral of his girlfriend Martina Kusnirova was held earlier in the week.
Seven people detained in connection with the killings have been released.
The suspects were held on Thursday.
What the police say
"During the legal timeframe - 48 hours - police checked and searched for the facts needed for an indictment. After the 48 hours passed, the persons were released from detention," said police spokeswoman Denisa Baloghova in a statement.
A public outcry
A journalist in life, in death Kuciak has become an emblem.
It is the first time a journalist has been murdered in the country. Kuciak's reporting focused primarily on links between businessmen and Slovak politicians in the east of the country.
On Friday, thousands marched in Bratislava and other Slovak cities demanding swift action in response to the killing that has shocked the country and shaken its government.
Kuciak's last, unfinished article was published posthumously by Slovak and international media.
The murder prompted demands from Fico's coalition partners for the resignation of senior officials.