Multiple targets attacked in Burkina Faso's capital
Comments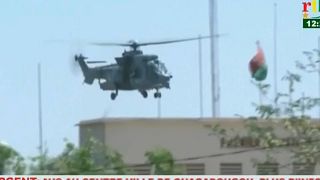 Nine presumed Islamic militants have been killed along with seven soldiers in a series of coordinated attacks in Burkina Faso's capital Ouagadougou, according to official sources.
Five attackers were killed at the army's headquarters while four more gunmen are said to have been neutralised at the French Embassy.
Police said security units were deployed to the scene and urged people to stay away from the area. Medical sources said 85 people had been injured. Unoffical sources put the death toll much higher.
According to eyewitnesses masked gunmen attacked the downtown army headquarters mid-mornng with an explosion of one or possibly two car bombs in the car park of the building.
Gunfire was heard near the French embassy at around the same time.
It was the third major attack in Ouagadougou in just over two years.
Burkina Faso is one of a number of fragile countries on the southern rim of the Sahara that are battling insurgent groups.
There was an unconfirmed report that al-Qaeda had claimed responsibility for the attacks.