Flying car to feature at Swiss motor show
Comments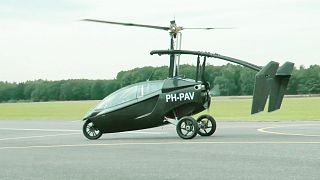 A flying car is set to wow crowds ahead of an annual motor show this month. It will be officially unveiled on Tuesday, and will feature at the 10-day Geneva Motor Show when it kicks-off on March 8.
The PAL-V Liberty, manufactured by Dutch company PAL-V, is a sports car and gyroplane-in-one and the first of its kind to be commercially produced in the world.
PAL-V CEO Robert Dingemanse says the craft has been in development for 18 years and is being prepared for release in Europe and the US.
He told Euronews: "It's a milestone in flying history. It's a thrilling time and we are really looking forward to the unveiling in Geneva."
The PAL-V Liberty is fast: It can top speeds of 170kph on the road or 180kph in the air, but riders cannot jump into the driver's seat right away and take-off into the sunset without being qualified. They will need both a driving and flying license before getting behind the wheel.
In Europe, that means that at least 25 hours training for a Light Aircraft Pilot License will be required, or 35 hours training in the US for a Gyroplane Pilot License.
The flying car does not launch vertically either, so drivers will need to use an airstrip or a private ground to take-off and land.
Up do 90 models of the vehicle will be assembled on its first production run, and each vehicle will cost €500,000 to purchase.
Despite its hefty price tag, Dingemanse says he has plenty of buyers lined up for the craft. But European customers will likely have to wait until next year for the first deliveries to arrive.