French far-right leader Marine Le Pen is charged with posting gruesome tweets from so-called Islamic State
Comments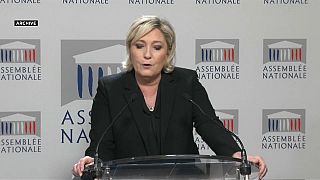 If convicted Marine Le Pen could face up to three years in prison and a fine of 75,000 euros.
A judge in Nanterre just outside Paris filed the charge.
In November the National Assembly stripped Le Pen of her parliamentary immunity over three photos she posted in 2015.
One of the pictures showed the body of James Foley, an American journalist beheaded by the Sunni extremists.
The others showed a man in an orange jumpsuit being driven over by a tank and a man being burned alive in a cage.
"Daesh is this!" Le Pen wrote in a caption, using an Arabic acronym for IS, in response to a TV journalist drawing a comparison between the extremists and the French far-right.
Le Pen later deleted the picture of Foley after a request from his family, saying she had been unaware of his identity.
"I am being charged for having condemned the horrors of Daesh," Le Pen told AFP.
"In other countries this would have earned me a medal."