Budapest restaurant offers homeless free tea as Hungary freezes
Comments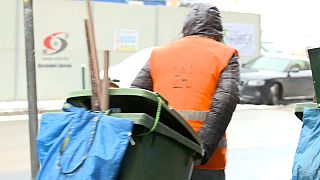 "Have some tea!" - that's the slogan of one restaurant in Budapest, which is offering free hot tea and sandwiches for people living on the streets whilst it's so cold. 
And the pastry shop on the opposite side of the street has also caught on, it's giving away its unsold pastries.
"It can mean a lot if we put a hot tea pot outside the bar," restaurant owner Dániel Bezerics, said. "It can give a little comfort to those who are really freezing in this cold weather."
The freak cold weather system from Siberia nicknamed the beast of the east has Hungary and much of Europe in its grip and it has taken the forecasters who had been looking for signs of spring by surprise.
Sleeping rough is a criminal offence but the government says it provides enough shelters for the homeless.
But there are still an estimated thirty thousand homeless people in Hungary who on Wednesday were due to endure temperatures of over minus ten degrees Celsius overnight.