Dutch supermarket launches 'world's first' plastic-free aisle
Comments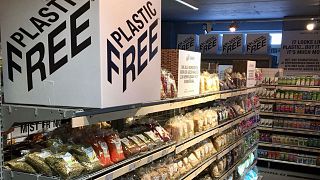 The "world's first" plastic-free aisle was launched on Wednesday by a supermarket in Amsterdam, offering shoppers a choice between some 700 products without plastic packaging.
The aisle, set up in a new metro-sized pilot store of Dutch supermarket chain Ekoplaza, has everything from chocolate to fresh meat, all bearing the "Plastic Free Mark" that helps shoppers identify products completely free of plastic packaging.
The aisle was created in partnership with environmental campaign group A Plastic Planet, which has described it as a "showcase to the world."
Speaking after the launch, A Plastic Planet co-founder Sian Sutherland told Euronews the aisle marked the "first step" towards plastic-free shopping becoming the norm.
"After 12 months of campaigning, it's really exciting for us to be launching our first plastic-free aisle," she said.
Sutherland said the aisle proved that it was possible to have "scalability, viability and convenience" with plastic-free shopping.
"We don't need to wait 20 years; we don't need to wait five years; we can do it now," she explained.
Products sold in the plastic-free aisle still have packaging, but it is made out of compostable materials, or glass, metal or cardboard.
"You can still buy your bag of salad, your pre-packed meat," Sutherland said, explaining that going plastic-free doesn't mean making shopping less convenient.
Ekoplaza is now set to introduce the aisle to 74 branches in the Netherlands over the course of 2018, and A Plastic Planet hopes other supermarkets in Europe and around the world will follow.
The European Union in January launched a landmark strategy to combat plastic waste, which included measures to make all plastic packaging recyclable or reusable by 2030.
"If we don't do anything about this, 50 years down the road, we will have more plastic than fish in the oceans," European Commission vice president Frans Timmermans told reporters.
In a study released last year, scientists estimated that 8.3 billion metric tons of plastic had been produced globally since the 1950s, with around 6.3 billion metric tons thrown away as of 2015.
Just 9% of that had been recycled, while 79% had accumulated in landfills or the natural environment, it said.