US cable giant Comcast in multi-billion euro bid for Sky
Comments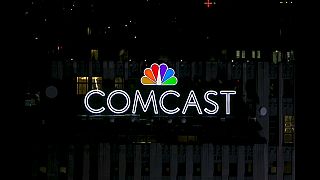 US cable TV giant Comcast has made a 22.1bn euro bid for Sky, challenging an existing offer from 21st Century Fox.
Sky's shares jumped more than 18% in early trading on the London Stock Exchange.
Comcast is the biggest US cable TV firm.
It also owns the broadcast TV network NBC and Universal Pictures.
Comcast said its bid of 14 euros a share was 16% higher than the 21st Century Fox offer.
Rupert Murdoch's 21st Century Fox had already agreed a 21 billion euro deal to buy the 61% of Sky it does not already own.
But the takeover is dogged by concerns over the media tycoon's political influence in Britain.