EU enlargement on agenda as Juncker tours Balkans
Comments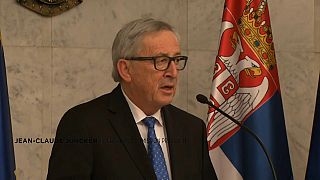 Serbia is one of six Western Balkan countries which together with Montenegro is the most advanced in accession talks to join the European Union bloc in 2025.
European Commission President Jean-Claude Juncker is currently touring all six countries and has made it clear membership of the bloc is not a promise but a perspective.
However, Serbia's longstanding dispute with Kosovo seems to be one of the biggest obstacles.
Belgrade does not recognise Kosovo's independence, unilaterally declared in 2008.
"We cannot add to the European Union countries that have not resolved territorial conflicts amongst themselves," said Juncker. "Bilateral conflicts cannot be imported. We would like such problems to be resolved before the date of membership."
Juncker said a legally binding text is needed, but it's up to the two countries to find the solution.
Serb President Aleksander Vucic agreed.
"This is why it is important to find a compromise with the Albanians to historically resolve this relationship in a different way without wars and conflicts," he said. "To have a north-south axis in the Western Balkans would mean friendship between the two most populous nations."
Euronews correspondent, Efthymia Koutsokosta, says at the Thessaloniki Summit in 2003, the EU expressed support to the Western Balkan countries' EU perspective.
But since then, only Croatia has become a full member while Serbia and Montenegro may follow in seven years time.
However, the EU has revived interest in the region mainly because all geopolitical changes make Russia, China and Turkey very much active in that part of Europe.