Erdogan slammed for telling sobbing girl, 6, her 'martyrdom' would be honoured
Comments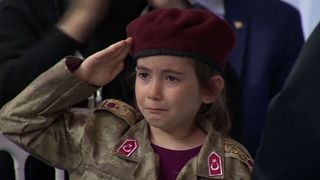 Copyright

Associated Press
Turkish president Recep Tayyip Erdogan has faced a backlash after telling a crying child that her martyrdom would be honoured by the country.
Six-year-old Amine Tiras was dressed in military uniform when she encountered the leader at his ruling party's congress on Saturday in Kahramanmaras. She was standing by the stage in a salute pose when she burst into tears and caught his attention.
Summoning her onto the platform, Erdogan kissed her on both cheeks. He turned to the flag-waving crowd and said, "God bless her. A Turkish flag in her pocket. If she's martyred, God willing, this flag will be draped [on her]. She's ready for anything. Aren't you?"
His words appalled many social media users, with some dubbing him a "fascist" and a "tyrant".
The incident comes as nationalist sentiment is running high in the country amid Turkey's persistent battle against Kurdish fighters in northern Syria.
In a television interview, former government minister Yasar Okutan accused Erdogan of exploiting children at political events for self-publicity ahead of presidential and local elections in 2019.
He questioned whether the president would support martyrdom for his own granddaughter.