Fighting flouts Syrian ceasefire
Comments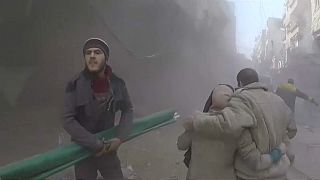 There have been clashes between Syrian rebels and government forces near Damascus despite a nationwide ceasefire ordered by the UN security council.
Critics say Syrian troops appear to be attempting to eliminate opposition resistance in Ghouta before the truce can be enforced.
Some citizens in Damascus mistrust the ceasefire which they say was negotiated by the opposition.
One Damascan resident says he is not against ending the bloodshed in Ghouta, but he is against the truce because he believes it was brought about by the opposition.
"I hope that they (army) will finish it and that no gunmen remain there," he says.
Meanwhile opposition activists have accused the Syrian government of launching a chlorine gas attack in rebel-held Ghouta.
Several people are said to have suffered symptoms consistent with exposure to the gas.