Juncker calls on FYROM to sort out naming dispute with Greece
Comments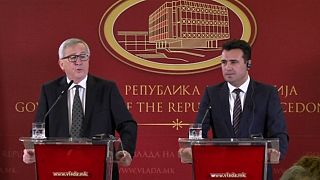 Claude Juncker says the Former Yugoslav Republic of Macedonia must resolve its long-standing naming dispute with Greece if the country wants to open EU membership talks.
Meeting with Fyrom prime minister, Zoran Zaez, the European Commission president praised the country's pace of reforms, but said there was one matter outstanding: "Normally, we are telling the entire world how things should be done; this time, speaking to specialists, I am refraining from giving public instructions. Do your job with Greece and Greece has to do its job with your country, and then things are moving to the right direction."
In response, Zaev said: "The issue of the name of our country with a geographical designation is a problem that the Republic of Macedonia are dealing with. This problem sets the line between our country and Greece. We are looking forward to a long standing solution, a solution that respects the integrity of the two peoples."
Greece argues that FYROM's use of the name when it gained independence in 1991 implies territorial claims to its Macedonia province.
Symela Touchtidou, Euronews' correspondent in Skopje, says: "According to some analysts here in Skopje, the special interest that the West shows lately in FYROM is because the western world has come to realise that stability and security for Europe is passing through the Balkans, the 'soft belly' of Europe, as they characteristically describe the region."