Despite a ban from public office former Italian Prime Minister Silvio Berlusconi addresses supporters as the national election campaign intensifies
Comments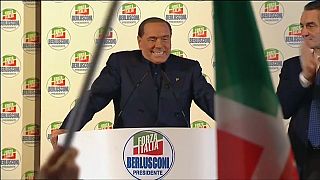 Former Prime Minister Silvio Berlusconi was greeted by a rousing applause on Sunday (February 25) as he prepared to speak to supporters at the Manzoni Theater in Milan.
The 81-year-old leader of the centre-right Forza Italia party (Go Italy!) is showing signs of fragility as he fights a ban for holding public office, sex scandals and legal entanglements.
The former prime minister has shunned outdoor political rallies in his campaign leading up to the March 4 elections, preferring television interviews or addressing supporters via videolink from his home.
Berlusconi leads the centre-right coalition that includes the right-wing League party which, in final polls published a week ago, is predict to collect the most votes, but probably not enough to hold a majority in parliament.
As the election campaign intensifies, League leader Matteo Salvini pledged to put Italians first and stated he was sure he would get the most votes.
Meanwhile, in Rome anti-fascist demonstrators gathered on Saturday to protest against a perceived rise in neo-fascist sentiment across Italy.
The demonstration was backed by several political parties, all the main national trade unions and a large number of non-government organisations.