Grenade attack launched on US embassy in Montenegro
Comments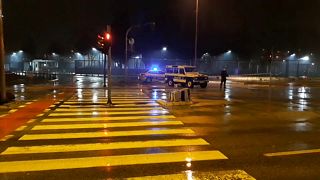 An explosive device has been thrown into the US embassy compound in Montenegro, the government there says, adding that the person responsible then blew themselves up.
It happened around midnight in the capital Podgorica.
Authorities believe the device was probably a hand grenade but the motive for the attack is unknown.
The US State department confirmed what it called "a small explosion near the U.S. Embassy compound" in a statement.
While no-one inside was reported injured, it said checks were being made on the safety of all staff.
A security alert was issued over the incident with US citizens being urged to avoid the embassy until further notice.