Shooting victims invited to White House
Comments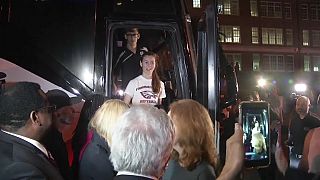 Students who survived last week's school shooting in Florida have travelled to meet the state's lawmakers to urge them to prevent another massacre.
Three buses carried 100 students who, in the aftermath of the attack which killed 17 people, want to revive the gun-control movement. Youth-led protests erupted within hours of the shooting
"We knew they wouldn't hear us if we stayed in Parkland, Florida," said student, Rebecca Schneid. "We have to go to them and show them how loud our voices can get because if we don't, how are they ever going to listen to us?"
President Trump has moved to ban a device which turns a rifle into a machine gun as pressure grows for more gun controls.
White House Press Secretary, Sarah Huckabee Sanders, said people want quick and simple answers after horrific tragedies like the shooting.
"There's not a quick and there's not a simple answer," she said. "But we want to make sure that we're addressing the problem and we want to make sure that we're meeting and talking with as many people that are affected. That's why (the president) is sitting down with the parents, the teachers, the students."
The White House has invited community members and victims from Parkland, Florida as well as victims from the Columbine and Sandy Hook shootings to a listening sessionon Wednesday.
The meeting, which is expected to focus on a wide range of issues, follows one of the deadliest school shootings in US history.