The situation in East Ghouta 'can't be described with words,' says activist
Comments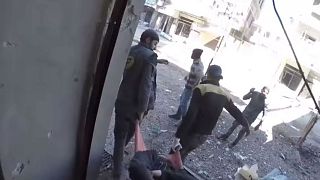 Copyright

Arbin Media Office
Airstrikes have killed at least 22 people in the town of Kafr Batna, according to local activists.
Save the Children spoke to a Syria Relief NGO member who described the situation.
"Honestly the situation is really, really, really, awful. It can't even be described with words," said the Syrian Relief member.
"Imagine in less than 24 hours, over 100 people have died and more than 700 have been injured ... between every missile, less than a minute passes."
The people are sitting inside tunnels of sand, the NGO worker added.
Because of the war, the price of food in the region has increased exponentially.
The price of a bag of bread is now 3,500 Syrian Lira (€5.5), the Syrian Relief member told Save the Children.