Seige of Afrin imminent as Turks make slow progress in northern Syria
Comments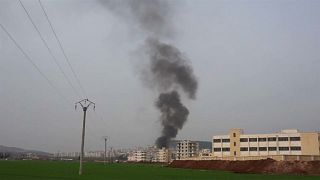 From a Turkish viewpoint the enemy is uncomfortably close, just over the mountains on the border with Syria, Kurdish YPG lurking in northern Syria, and that is why for the past month the Turkish army has been trying to drive them out.
Now Afrin, a major town of more than 30,000 people in the Aleppo province, is the next target on the Turkish army's list. But "Operation Olive Branch", as the offensive against the Kurds is known, has run into difficulties in inhospitable terrain.
The Turks want to ensure no contiguous Kurdish territory along its Syrian border, and after Afrin their next declared objective is Manbij. That would mean slicing through Syrian rebel forces, and the Syrian army, which has already called on the Kurds to join Arab resistance to the Turkish incursion, after having fought them for most of the last seven years. Such is the shifting nature of alliances and loyalties on the ground.
Pushing further east, the Turks may encounter their NATO allies America, supporting the Kurds and elements of Syrian rebel fighters against ISIL and the Syrian government.
In the meantime Afrin awaits encirclement and its people prepare for the worst.