UKIP in turmoil again after sacking leader Henry Bolton
Comments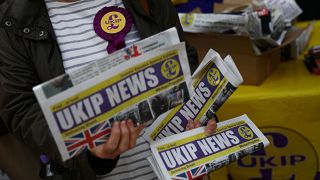 British Eurosceptic party UKIP has been thrown into chaos after its leader Henry Bolton was removed by the party membership after less than five months in charge.
Henry Bolton was hit by a scandal about racist comments made by his lover.
How he has been humbled by party members after 63 percent of 1,378 ballots cast at an extraordinary general meeting voted to ditch him as leader.
UKIP's national executive had tried to remove him after his 25-year-old girlfriend Jo Marney made offensive comments about Prince Harry's fiancée Meghan Markle in text messages to a friend.
It raised questions about Bolton's judgment and about the extent to which such views might be prevalent in the wider party membership.
Former party leader Nigel Farage continued to back Bolton afterwards.
The anti-EU United Kingdom Independence Party (UKIP) has struggled to maintain its relevance since the country voted to leave the European Union. Since winning nearly four million votes (12.6 percent of ballots cast) at the 2015 general election, its poll ratings have crashed.
The party has now been through six leaders since the referendum in June 2016.