Four skiers die in one day in France
Comments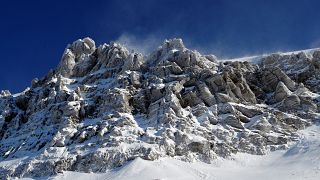 A father and his 11-year-old daughter died as they were swept away by an avalanche at Val d'Isere in the French Alps on Sunday, mountain rescuers reported.
The 43-year-old man and his daughter, who came from the Paris region, were skiing on a piste that had been closed because of the risk of avalanches, the authorities said.
The two victims were found at lunchtime in an area surrounded by cliffs at an altitude of nearly 3,000 metres. The exact circumstances of the accident are not known.
Also on Sunday, a cross-country skier was killed near the resort of Giettaz-en-Aravis in Savoie, when a ledge gave way under his weight in an off-piste zone.
A 19-year-old man also died in the Pyrenees while skiing with his father.
Meanwhile an avalanche in the Swiss Alps injured two skiers, police said on Sunday.
Earlier they had reported that ten people were missing after a witness raised the alarm, unaware that the group were safe.
"There was indeed a group of ten skiers, but at the moment the avalanche struck, eight of them were ahead of the snowslide and the one who raised the alarm believed they had all been swept away," said police spokesman Steve Leger.
"Rescuers found the two injured people and transported them to hospital," he added. They were later said to have only minor injuries.
Police say the group were not hiking but were on touring skis, which can be used to climb and descend slopes.
The accident happened shortly before 16.00 CET at an altitude of 2,500 metres in an area called the Col de Fenestral in the Swiss canton of Valais.
Several avalanches hit the area on Sunday away from secured slopes, according to a police statement which urged people to be cautious.
The avalanche danger is put at three out of five throughout the Valais canton.
On Friday the bodies of two mountain rescue workers were recovered in Italy, after an avalanche at Mount Grignetta north of Lecco in the country's Lombardia region.
The men aged 37 and 46 were both said to be from the area.
It was the latest in a series of deadly snow slides in the Italian Alps so far this year.