'Brace!': passenger films United Airlines emergency landing
Comments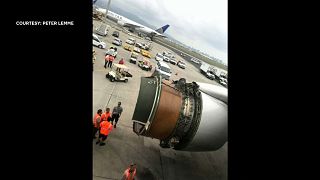 A loud bang and violent shaking made for a frightening flight aboard the above United Airlines plane. As it crossed the Pacific Ocean en route from San Francisco to Honolulu, the casing around one of the engines ripped apart.
The pilots declared an emergency and passengers were urged to fasten their seatbelts and adopt the brace position in preparation for an emergency landing.
A spokesman for the airline said the plane, which was carrying over 370 people, later landed without incident at Honolulu International Airport. An investigation is being launched.