Pyeongchang 2018: what happened on day four of the Winter Olympics?
Comments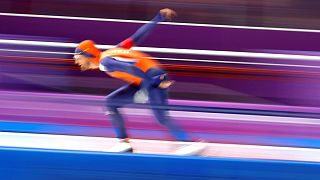 What happened?
Doping scandal
The first doping controversy from the Winter Olympics in South Korea emerged on Tuesday. Japanese short track speed skater Kei Saito failed a drugs test on the day of his arrival in Pyeongchang, Japan team officials have said. Saito, who had not yet competed in South Korea, was provisionally suspended after testing positive for masking agent acetalozamide, the Court of Arbitration for Sport said. A final ruling will be issued after the games. Tokyo is the chosen host of the 2020 Summer Olympics.
Hirscher ends long wait
Marcel Hirscher, one of the best skiers of his generation, put a demon to bed on Tuesday by ending his long wait for an Olympic gold medal. The Austrian came first in the men's combined event after a blistering slalom run on Tuesday. Hirscher, who beat France's Alexis Pinturault into second by 0.23 seconds, said he was delighted.
"I'm super happy because now this stupid question (about whether) I'm thinking that my career is perfect without a gold medal is gone away," he told reporters. "I killed it. It is something special but really unexpected. We were not sure two weeks ago if I would compete in the combined or not."
We are family
As romantics the world over gear up to mark Valentine's Day, one couple in South Korea have hailed their togetherness after securing an Olympic medal. The husband-and-wife team of Aleksandr Krushelnitckiy and Anastasia Bryzgalova — representing the Olympic Athletes from Russia — came third in the curling mixed doubles, beating Norwegian pair Kristin Skaslien and Magnus Nedregotten. 
"It's very important that we are family," Bryzgalova said. "That was very important in order to survive yesterday's (semi-final) loss. Just to come out here today and to make the match that we can be proud about. The fact that we are family helped us a lot."
Teenager nets snowboarding gold
Chloe Kim blew away the competition to win the women's snowboard halfpipe gold at Pyeongchang's Phoenix Snow Park on Tuesday, with the American teenager finishing well clear of China's Liu Jiayu and compatriot Arielle Gold.
The 17-year-old Kim produced a top score of 98.25 points on her third and final run to beat Liu by almost 10 points in front of the largest crowd seen at the venue.
Athletes' complaints 'not ignored'
Several athletes, including Austrian Anna Gasser and Norway's Silje Norendal, complained about the extreme wind and hard snow at the women's snowboard slopestyle Olympic final on Monday. Only five of the 25 riders competing made it down the first run without falling in the difficult conditions and none of them completed two error-free runs. American Jamie Anderson coped best and retained her title with a score of 83.00 points at the Phoenix Snow Park. The International Ski Federation has now denied claims athletes' complaints were ignored in the buildup to the event.
Day four in pictures
Social media reaction