At least ten killed as Egypt continues military campaign in Sinai
Comments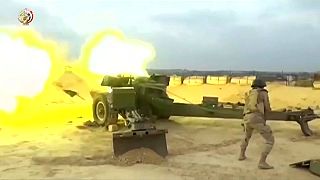 At least ten people have been killed and 400 others detained in Egypt's continuing crackdown on so-called "terrorist organisations and criminal elements."
It follows a fierce gunbattle in the Sinai peninsula where a suspected Islamic State militant attack on a mosque left hundreds dead in November.
Egypt's security forces have been battling an Islamist insurgency for years in Sinai, but this latest operation, which began on Friday, is said to be unprecedented in its scope, coordination and size. President Abdel Fattah al-Sisi, the main regional ally of the United States, has vowed to crush the insurgency by the end of February. A pledge he no doubt hopes will help him secure a second term in office in next month's elections.