Merkel defends coalition deal on German TV
Comments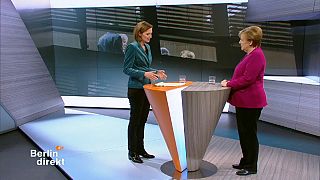 Angela Merkel has taken the rare step of going on German TV to defend the concessions she made to win a fourth term as German chancellor.
Amid rumours of rebellion in her ranks, she commented on the rising displeasure among conservatives over her decision to give the SPD the powerful finance ministry.
"I understand the disappointment," said Merkel, who has led Germany for the last 12 years. "And now we need to show that we can start with a new team," she added. "We have six ministerial posts to fill and from my point of view we need to ensure that not only the over-60s are considered but also younger people."
Merkel was weakened in a September election that saw her conservative bloc bleed support to a far-right party thrust into parliament for the first time by voters angry at her decision in 2015 to welcome more than a million immigrants.
Last week, she secured a deal with the SPD to renew a right-left alliance that has ruled Germany since 2013 after making painful concessions on Europe and fiscal policy as well as ceding the finance ministry.
She rejected a suggestion that generous concessions to the SPD had weakened her position in the CDU, saying she had decided to cut a deal for the sake of Germany.
She sought to allay fears among conservatives that by ceding the finance ministry, the next government will stray from the strict fiscal discipline enforced by former finance ministerWolfgang Schaeuble. Some conservatives are unhappy with her decision to allow the SPD to spend a record budget surplus and to embrace their demands for European reform.