Iranians mark anniversary of Islamic Revolution
Comments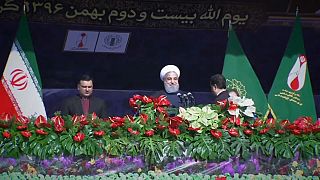 Iran's President Hassan Rouhani has called for unity as hundreds of thousands of Iranians took to the street to mark the 39th anniversary of the Islamic Revolution.
Demonstrators burned American and Israeli flags, as well as images of President Donald Trump, whose refusal to re-certify the nuclear deal with world powers has riled Iranians.
The president appealed to people to come together across the political spectrum and admitted some Iranians had been left behind.
"We pushed some people off the revolution train, while we could have kept them on board," he said. "Today we should invite everyone aboard the train of success and victory of the revolution."
In his speech to a massive crowd at Tehran's central Azadi Square, Rouhani promised more job opportunities and better economic condition in the near future.
The comments appeared to be aimed at calming political waters following a New Year marred by anti-government protests.
The demonstrations initially focused on Iran's poor economy despite the nuclear deal, but quickly spiraled into protests directly challenging Iran's theocratic government.
The anniversary commemorates the overthrow of US-backed Iranian Shah Mohammad Reza Pahlavi. This opened a period of hostilities between Iran and the West, including an attack on the US Embassy in Tehran and the subsequent hostage crisis.