Denmark's Prince Henrik's condition 'greatly worsened'
Comments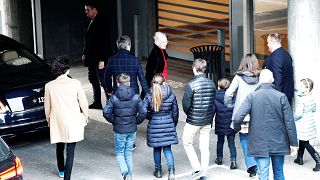 Prince Henrik of Denmark is in a deteriorating condition in hospital, pushing his son, Crown Prince Frederik, to return early from the PyeongChang Winter Olympics.
His wife, Queen Margrethe, and other members of the royal family visited Henrik in hospital, after it was announced that his health had "unfortunately greatly worsened".
Last month, Henrik was forced to cut short a visit to Egypt after doctors diagnosed him with pneumonia. On his return to Copenhagen, a benign tumour was discovered in his left lung and he contracted an infection.
The Prince Consort has been seriously ill for two weeks and also suffers from dementia.