Fears of confrontation between Israel and Iran over Syria
Comments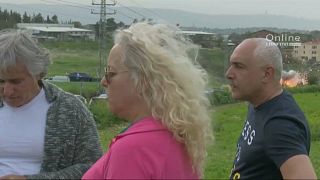 There are fears of further confrontation between Israel and Iran over Syria after Saturday's large-scale Israeli strikes on targets in the war-torn country.
Israel holds Iran and its Syrian hosts responsible... We will continue to do whatever is necessary to protect our sovereignty and our security

Israeli Prime Minister
Israel launched the attacks after claiming to have intercepted and destroyed an Iranian drone which the military said had crossed the border into Israel.
Israeli TV cameras caught the moment of a controlled explosion at the site of a fighter jet crash in northern Israel, which happened during the offensive.
The F-16 had been hit by anti-aircraft fire over Syria but came down in the Israeli-controlled Golan Heights.
The explosion took a few bystanders by surprise as they ducked for cover in front of an Israeli Channel 2 news camera.
The fighter jet was one several to conduct bombing in raids in response to what Israel said was an Iranian drone incursion.
But Iran denied involvement in the incident.
Fragments of unidentified missiles were found near the southern Syrian city of Quneitra on Saturday.
"I've been warning for some time about the dangers of Iran's military entrenchment in Syria," Israeli Prime Minister Benjamin Netanyahu said in remarks on Saturday.
"Iran seeks to use Syrian territory to attack Israel for its professed goal of destroying Israel.
"This morning Iran brazenly violated Israel's sovereignty."
Both Israel and Syria signalled they were not seeking wider conflict.
But Netanyahu rushed to military headquarters in Tel Aviv for consultations after the crash, while Syria's Assad regime pledged a strong response to any Israeli "terrorist action".
Russia, whose forces have been actively backing the Syrian government since 2015, expressed its concern and urged both sides to exercise restraint and avoid escalation.
The Israeli prime minister said he had spoken by phone with President Putin amid Saturday's strikes. The Russian leader told Netanyahu that there was a need to avoid any steps that would lead to a new confrontation, the Interfax news agency reported.
The United States also commented, the Pentagon saying the US fully supported Israel's right to defend itself. The State Departmenet said Washington was "deeply concerned" about the "escalation of violence over Israel's border".