Winter snowstorm sweeps across US midwest
Comments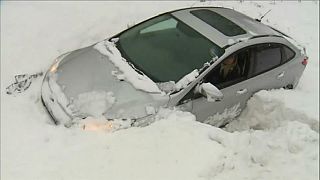 A winter snowstorm is sweeping across the northern US midwest . It is being blamed for a massive chain-reaction pileup involving 16 semitrailers and 38 vehicles in Michigan.
The death toll stands at two. A 33-year-old woman died after a multi-vehicle crash near Fenton, Michigan on Friday, and a man in his 60s died of a heart attack while shoveling snow in Naperville, Illinois.
The storm grounded hundreds of flights as it rolled east, and dumped 23cm of snow on Chicago.
Forecasters are predicting more snowfall into Sunday, although the flurries are expected to be lighter.